Younger appearance without downtime!
Imagine being able to rejuvenate your facial skin, reduce fine lines and wrinkles, and achieve a younger, radiant look without surgery and downtime. Our advanced non-invasive facial treatments will help you achieve the desired results!
Benefits of non-invasive treatments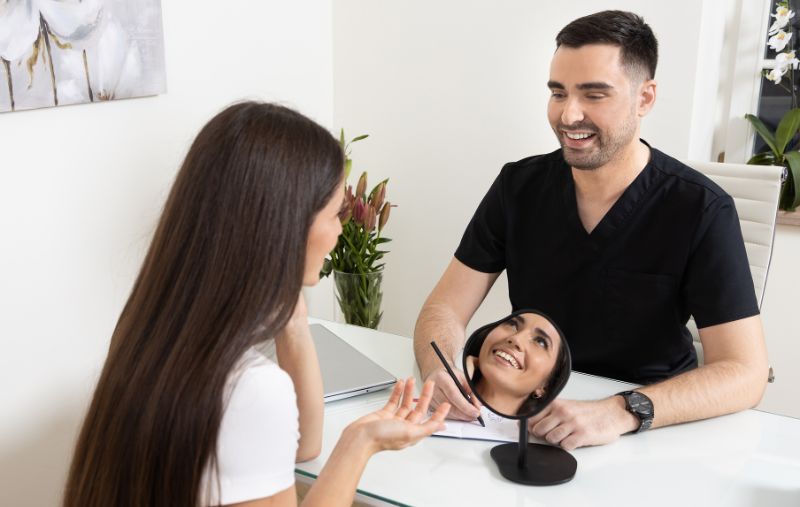 Non-invasive facial treatments do not require any downtime for recovery. You can resume your daily activities immediately. They are very comfortable, so you don't have to worry about anesthesia or pain.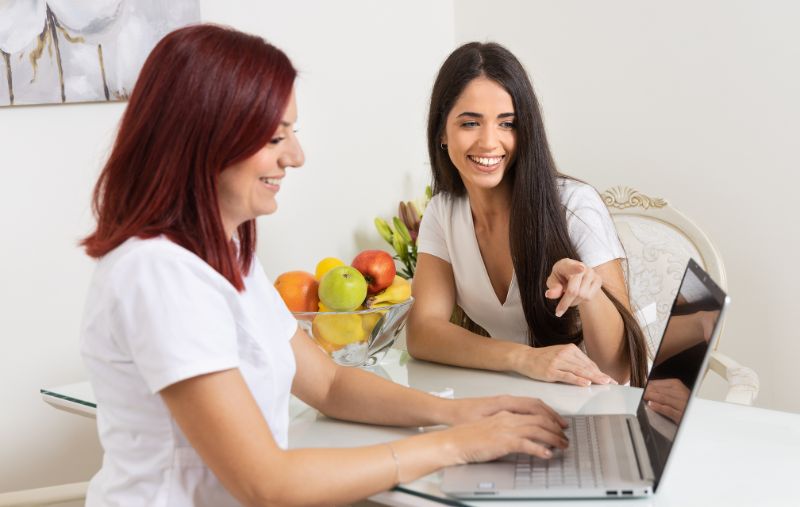 With non-invasive facial treatments, you will see immediate results. You will notice a younger, radiant appearance right after the procedure.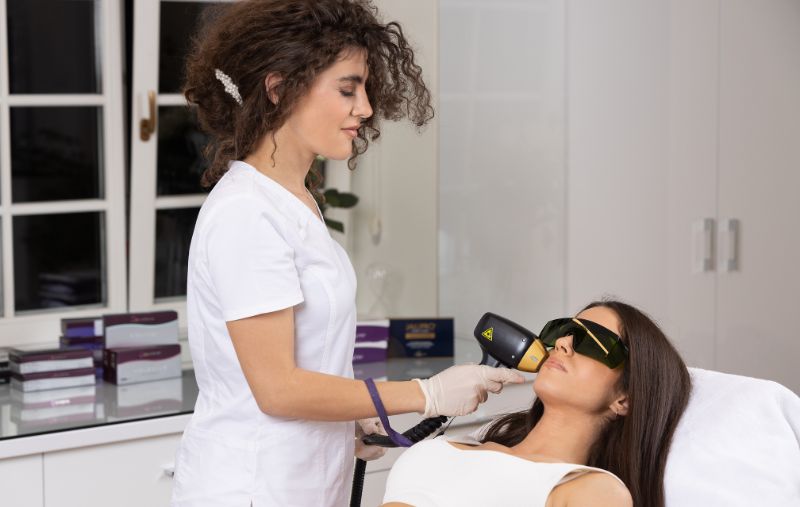 You can rely on the professionalism and expertise of our professionals. We use advanced technologies and techniques to achieve results that you will be guaranteed to love!
Find the perfect treatment for your face!
The most popular non-invasive facial treatments
Alma DermaClear for deep skin cleansing
Alma DermaClear device is used for exfoliating, cleansing, and hydrating the skin of the face. It is suitable for all skin types and is an essential part of a skincare routine. With DermaClear, the skin will be deeply cleansed, nourished, and hydrated.
For exfoliation, it utilizes AHA fruit acids and antioxidants that penetrate the skin and clean the pores.
Cleansing is performed using BHA acids that remove blackheads and excess sebum.
Hydration and nourishment of the skin are achieved through peptides, vitamins, and antioxidants, giving the skin a natural radiance and maintaining its health.
Results are visible immediately after the treatment – the skin appears radiant, firm, and fresh.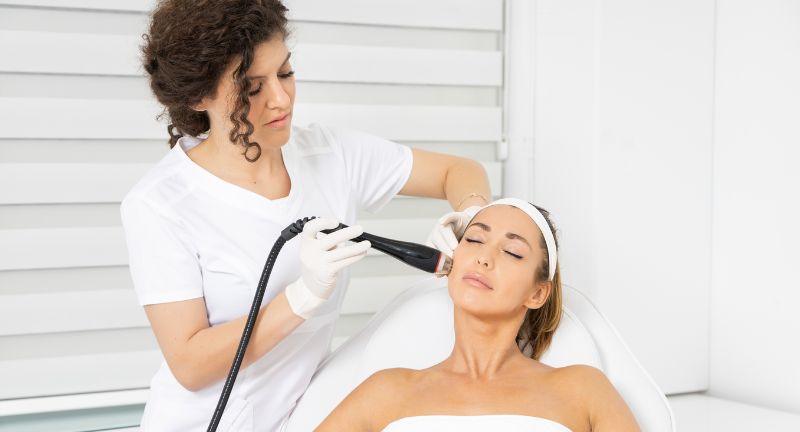 Clearlift laser for tightened and youthful skin
ClearLift laser is a safe, effective, and completely natural way to make facial skin look younger. It is also known as the Hollywood Lunchtime Facelift because it is an ideal treatment to make the face glow before important events. It stimulates collagen and elastin production and regenerates the skin. Visibly renewed, healthy, elastic, and rejuvenated skin is what you can expect from the treatment.
ClearLift is suitable for all skin types, including sensitive skin.
The treatment is completely painless, maximally comfortable for the patient, and there is no need for special recovery afterward.
The skin becomes radiant and fresh. The complexion is more even, hyperpigmentation is less visible or completely eliminated, and pores are tightened.
ClearLift is effective and provides immediate visible results.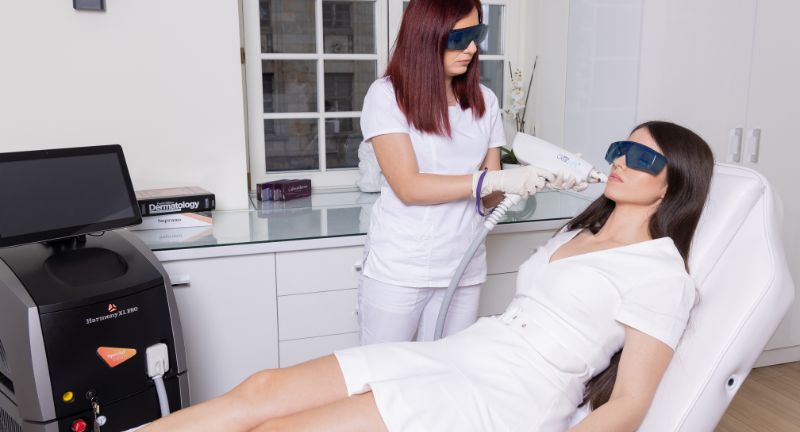 ClearSkin for skin without acne and imperfections
ClearSkin treats almost all forms of acne, effectively targets acne scars, and naturally rejuvenates facial skin. The treatment is ideal for patients with problematic, oily, and inflammation-prone skin.
ClearSkin works on all types of pimples and acne, even more severe cases.
It reduces sebum production and minimizes pores. It improves skin tone and texture.
It deeply cleanses and revitalizes the skin, leaving it healthy, recovered, and nourished.
ClearSkin provides quick results and works preventively against facial inflammation and acne.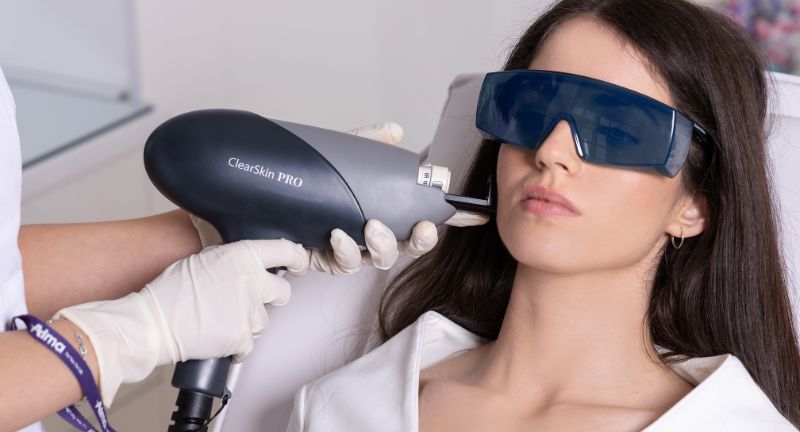 NIR (Near Infrared) treatment for skin tightening
When you think of naturally rejuvenated and tightened skin, choose NIR treatment. It provides non-invasive cell regeneration, erases fatigue from the face, and instantly refreshes the skin. The laser uses high-powered light energy for safe and effective collagen growth stimulation.
Alma NIR treatment delivers immediate results in skin tightening.
Pores are minimized, texture is visibly evened out and improved.
Right after the treatment, you will notice a difference – the skin becomes fresh and radiant.
Through a series of several treatments, long-term results are achieved.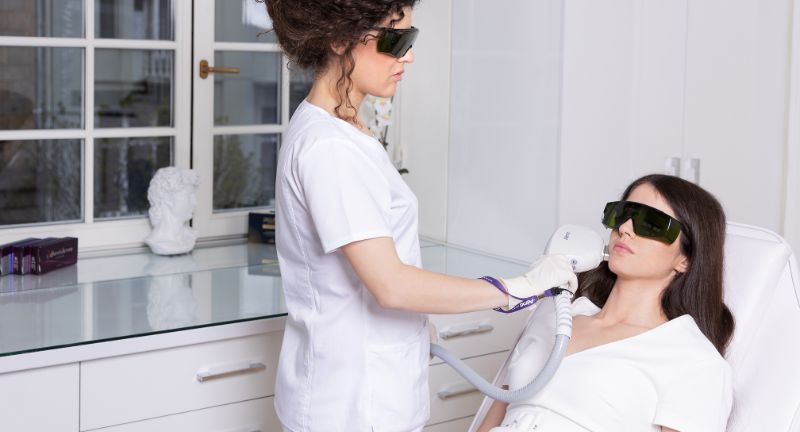 Alma PrimeX for double chin ad lower face
Alma PrimeX is used for facial and body reshaping. With the help of SpeedSculpt and Uniface probes, excellent results are achieved in tightening the jowls and lower face. With 4-6 consecutive treatments, long-term effects are achieved.
PrimeX treatment has no adverse effects. Immediately after the treatment, you can return to your daily activities.
The treatment is quick, safe, and maximally comfortable, thanks to the integrated cooling system.
The face is firmer, and the double chin becomes smaller. Contours are more defined, and the overall appearance of the face becomes more rejuvenated.
PrimeX adapts to the needs of patients. Currently, it represents the best solution in the world for skin shaping and tightening.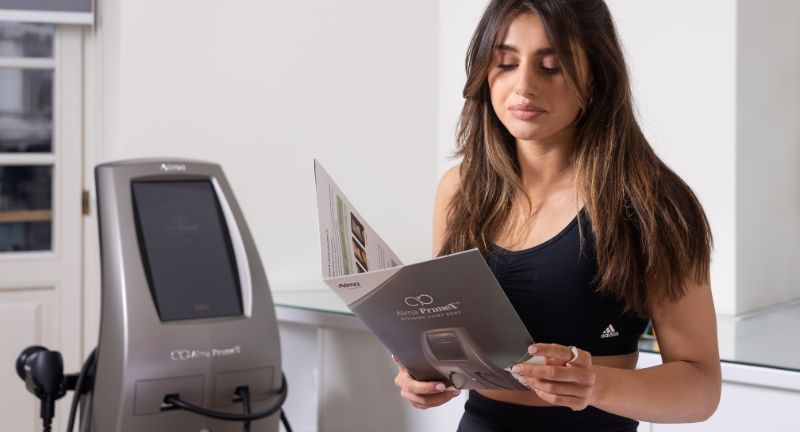 Dye VL:hyperpigmentation, redness, rosacea and facial capillaries
Alma Dye VL laser effectively treats imperfections on the face, targeting conditions such as rosacea, various types of hyperpigmentation, redness, and facial spider veins. Additionally, it rejuvenates the skin, making it firmer and tighter.
Alma Dye VL laser targets couperose, redness, and rosacea.
It has an excellent impact on pigmented lesions, enlarged capillaries, and spider veins.
It treats hemangiomas and red scars.
It successfully eliminates hyperpigmentation.
Alma Dye VL laser will improve your skin tone and quality. After the treatment, the skin becomes soft, refreshed, and even-toned.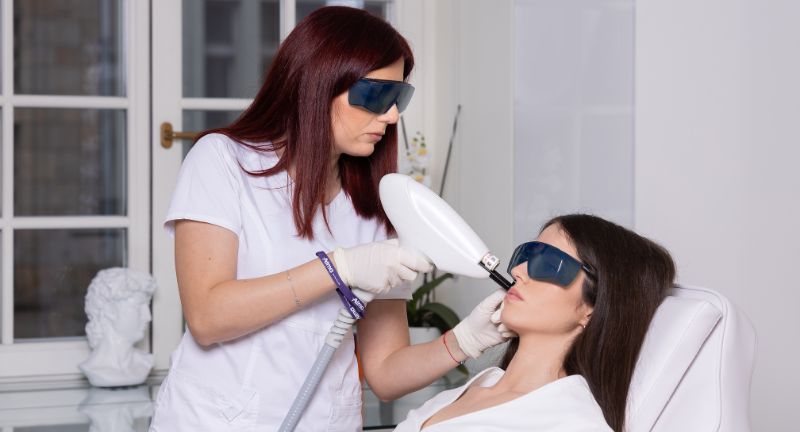 Experience in the field: Our doctors and trained professionals specialize in non-invasive facial treatments and are here to tailor each treatment to your unique needs.
Cutting-edge technology: We use the latest and most innovative non-invasive facial treatment technologies that are supported by research, science, and guarantees.
Comfortable and relaxing environment: Our clinic is designed to provide a soothing and pleasant atmosphere for all our patients. You will feel relaxed and supported during your facial treatment.
Take the first step towards the radiant, youthful appearance you deserve. Book your non-invasive facial treatment today!
More about us
I have been struggling with acne on my face for years and have tried various treatments and therapies. With the ClearSkin treatment, I have seen very quick results. For the first time, I feel that my skin is healed, deeply cleansed, and nurtured. Thanks to Dr. Miloš, I no longer feel ashamed of my bare face!
"I have tried the Dye VL laser, and finally, the facial capillaries have been removed. They have been bothering me for a while! I continue to take care of my face following Dr. Tamara's advice, and my skin is fully regenerated. I highly recommend everyone to experience the power of modern lasers!
"The Dermaclear facial cleansing treatment has exceeded my expectations - it has become my favorite treatment that surpasses regular hygiene procedures. Bojana's expertise and kindness made me feel secure and satisfied throughout the entire treatment. I obtained radiant skin that has given me a new level of confidence."