Experience
the
power
of
skin
boosters
Introducing Skin boosters – the ultimate injection-based facial biorevitalization treatment enriched with hyaluronic acid. Experience a rapid solution for deep hydration and skin rejuvenation. Say goodbye to signs of fatigue and stress, and embrace a radiant, youthful complexion. Most importantly, these boosters enhance the overall quality and health of your skin.
Your skin deserves top-notch care, especially as the production of hyaluronic acid, collagen, and elastin starts declining after the age of 25. This contributes to the appearance of wrinkles and dryness, making regular skincare less effective and leaving you unsatisfied, impacting your self-confidence.
With regular skin booster treatments, your face will defy the signs of aging. Notice how your skin becomes more elastic, radiant, and evenly toned, with a subtle tightening effect. Skin Boosters can be applied to the facial, neck, and décolleté areas.
Unlock the true potential of your skin and relish the benefits of Skin boosters. Embrace a revitalized and confident you!
Benefits
of
Skin
Boosters
Healthy skin = beautiful skin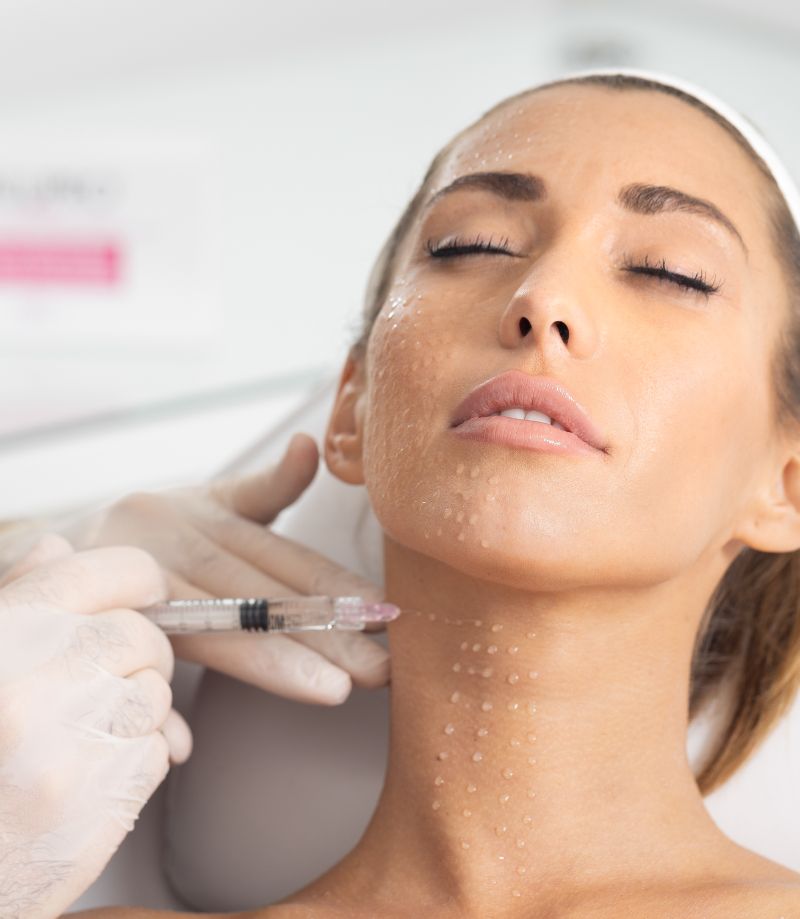 The
most
wanted
skin
boosters
Among our extensive range of skin boosters, we proudly highlight:
Profhilo, our remarkable skin booster, boasts the highest concentration of hyaluronic acid on the market – a remarkable 67mg in 2ml! Designed primarily for intense facial hydration, it also stimulates collagen and elastin production in the skin. Witness the return of firmness and significant improvements in skin elasticity.
Comfortable and swift, this treatment involves injecting Profhilo into five strategic points on your face. Expect brilliant results after just one session, with a visible enhancement in overall skin texture. Profhilo is perfect for deep and long-lasting hydration, granting you smooth, velvety facial skin. Embrace the natural anti-aging effects of Profhilo, as it contains non-crosslinked hyaluronic acid and requires repeated treatments. Choose Profhilo and revel in the beauty of naturally radiant and youthful skin!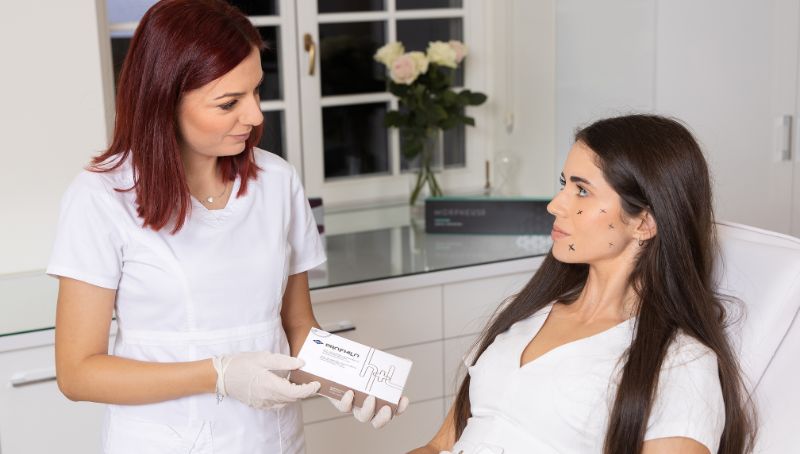 All Jalupro products feature non-crosslinked hyaluronic acid and are designed to be used in treatment series to achieve optimal effects. Jalupro penetrates deep into the skin, stimulating collagen production, promoting cell regeneration, and providing long-lasting hydration. It's perfect for dry and dehydrated skin in need of refreshment and a rejuvenated appearance.
Classic Jalupro with 1% hyaluronic acid is recommended for younger patients. It restores youthful radiance, targets minor imperfections, and ensures essential hydration. As wrinkles are not yet pronounced in their twenties, Classic Jalupro serves as a preventive measure, delaying the onset of the first signs of aging.
Jalupro HMW is excellent for patients over the age of 25. At this stage, the levels of elastin, collagen, and hyaluronic acid in our bodies begin to gradually decrease, and skin boosters serve to prevent signs of aging. With 2% hyaluronic acid, it provides the necessary nourishment and care for skin recovery.
Jalupro Super Hydro aims to restore firmness and elasticity to the skin, making it suitable for patients aged 30 and above. In addition to a high concentration of hyaluronic acid – 80mg, it contains additional peptides and amino acids that further stimulate the production of collagen, elastin, and hyaluronic acid in the skin. The treatment involves 7 to 9 injection points, making it particularly suitable for individuals with sensitive skin.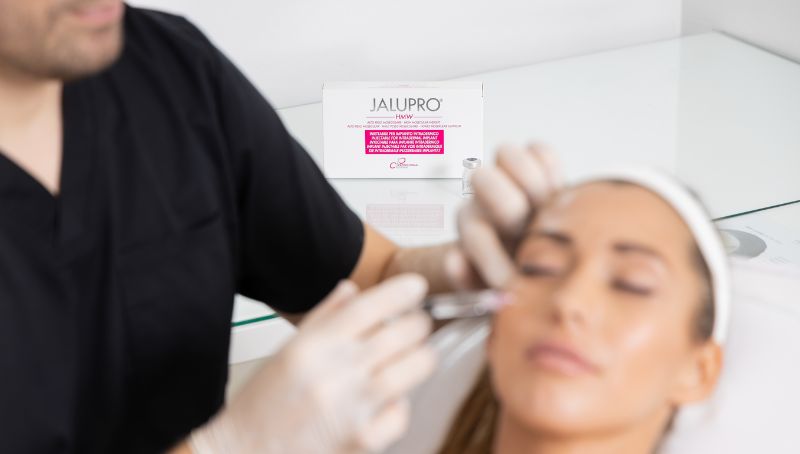 Juvederm Volite, a cross-linked hyaluronic acid product, offers versatile treatment options for various areas like the face, hands, neck, décolletage, periorbital region, and the area around the lips. It effectively addresses noticeable skin imperfections and proves highly successful in reducing and eliminating skin scars. Furthermore, it targets fine lines around the eyes and above the lips.
Recommended for patients experiencing signs of stress, dehydration, and fatigue on their face, Juvederm Volite delivers exceptional results. After the treatment, your skin becomes firmer, smoother, and more tightened, experiencing deep revitalization and significant rejuvenation.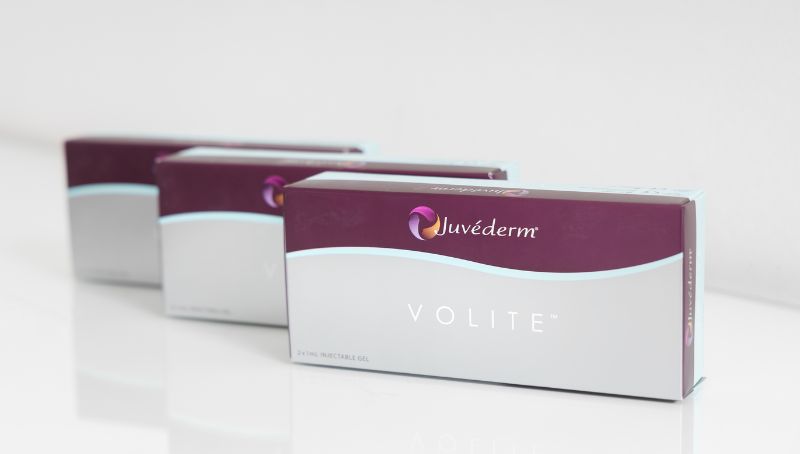 RRS HA Long Lasting is a facial biorevitalization product with cross-linked hyaluronic acid that enhances skin hydration and tone. Its mild filling effect contributes to improved skin texture. Enriched with 15 amino acids, it provides a boost to the skin's overall quality.
Experience reduced visibility of enlarged pores, reinvigorated dry and lifeless skin, as well as a smoothing effect on fine lines and wrinkles. With 3ml of cross-linked hyaluronic acid, it's ideal for patients aged 30 and above, targeting visible signs of aging on the face.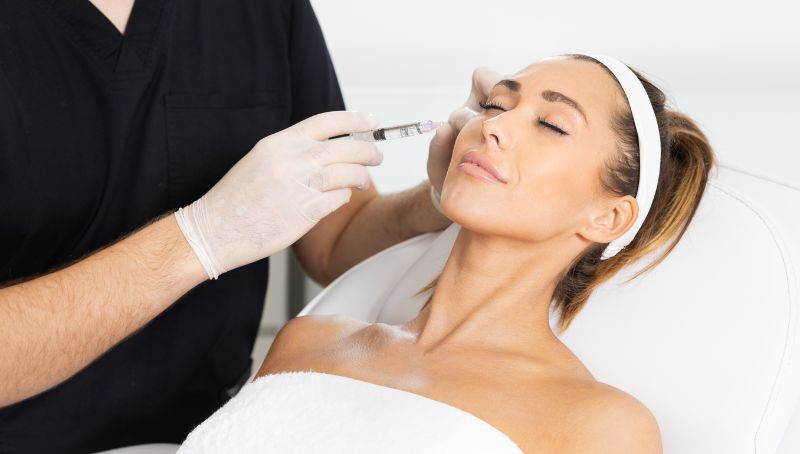 Is a consultation required?
After mandatory consultations, the doctor will assess the skin's condition and needs. The number of treatments required for complete revitalization and achieving maximum effects will be determined. During the consultation, the most suitable skin booster is chosen, tailored to the skin's condition and type.
What is the main difference between skin boosters?
Skin boosters differ in whether they contain cross-linked (cross-linked) hyaluronic acid or non-cross-linked hyaluronic acid. Skin boosters with cross-linked acid have a longer-lasting effect and a more profound impact on deep facial hydration. For instance, Juvederm Volite has a prolonged effect due to its cross-linked acid, while Profhilo requires a series of treatments as it remains in the skin for up to 28 days.
Differences in skin boosters also lie in their composition, the concentration of hyaluronic acid, and their targeted skin types. Lower concentrations of hyaluronic acid are suitable for younger patients, while higher concentrations are tailored for those with damaged and dry skin, requiring collagen and elastin stimulation.
Who is suitable for skin boosters?
Skin boosters are ideal for deep skin hydration and improving its quality. They are also recommended for anyone looking to diminish signs of aging and restore freshness, radiance, and firmness to their skin.
What does the treatment look like?
The skin booster treatment lasts for about half an hour or longer, depending on the treated area. The procedure involves thorough skin cleansing and the application of an anesthetic cream to ensure a pain-free and comfortable experience.
Main effects
Immediately after the treatment, the treated area will look significantly improved, while the best effects become visible after 7 days. What can you expect from skin boosters?
Your skin will be deeply hydrated and nourished.
Skin texture will visibly improve.
Dry skin becomes radiant and glowing.
The face will experience a subtle tightening effect, achieving an anti-aging effect.
How many skin booster treatments are needed?
The number of treatments required depends on whether the treatment is done with cross-linked or non-cross-linked hyaluronic acid. With non-cross-linked hyaluronic acid, repeated treatments are needed, while treatments with cross-linked hyaluronic acid are done up to twice a year.
Combination with other treatments
Skin boosters can be performed independently, or they can be combined with other treatments aimed at skin rejuvenation. These may include chemical peels, hyaluronic fillers, and CO2 laser treatments. We particularly recommend combining skin boosters with non-ablative laser treatments like ClearLift for optimal results.
Hyaluronic fillers or skin boosters?
Skin boosters work on skin hydration, while hyaluronic fillers, which are injected deep under the skin, provide volume to the face and contouring. Skin boosters have a higher power of skin revitalization, meaning they contribute not only to beauty but also to the health and quality of the skin.
Recovery and side effects
After skin booster treatment, you can resume your regular activities without the need for downtime. There is no recovery required. However, we advise avoiding sun exposure, saunas, and tanning beds for the next week. It's also recommended to refrain from wearing makeup during the day and skipping intense workouts.
Redness and mild swelling (only at the injection sites) are normal reactions after the treatment and typically subside within a few hours. Skin boosters are effective, clinically tested, and approved, ensuring complete safety in their use.
Jalupro Classic lice
10.000
Jalupro HMW
(face and neck)
24.000
Jalupro HMW
(face, neck and decollete)
30.000
Jalupro Super Hydro
23.500
Profhilo
2ml/ 29.500; 4ml/52.500
Juvederm Volite
1ml/ 23.500; 2ml/41.000
RRS HA Long Lasting
3ml/23.500 rsd
Book your appointment : 064/237-0707 !